During the last 30 days I got 400 new targeted followers on twitter, got listed many times, my tweets were retweeted hundreds of times and this happened by using no other tools than the native twitter app. What you will learn in this post is how to get more real followers on twitter using this method and how to achieve even better results with the help of a couple of tools.
Twitter is one of the most popular social networks around especially among digital marketers not only because it's easy and quick to use, but also because it is used widely by industry leaders and due to the recent deal between Google and Twitter that gives an additional SEO advantage for some twitter users.
In order to utilize any of the twitter advantages you need followers and in particular you need a lot of real followers that will interact with your tweets. Getting any type of followers is easy, you can either buy them (not recommended) or just follow anyone you want and some will follow you back.
The thing is, it's not only a numbers game i.e how many followers you have but it's more of a an interests game i.e. being followed by people that share the same interests with you so that they are more likely to like and share your tweets or even follow a link to your website.
Case Study – Background information
I have my twitter account (@reliablesoftnet) since 2013 and currently there are approximately 8000 people following me. At first I was using twitter intensively for a number of months and managed to get a good number of followers (more on this below), but after that I did not actively used it.
I did use buffer to send out tweets on a daily basis but that's all I did until last month. The average growth per month was about 100 new followers.
Last month I decided to be an active twitter user and by following the method you will read below, I got around 400 new followers, many retweets and mentions.
A few screenshots that show the details.
When I started the experiment my twitter followers where 7505 and in 30 days they increased to 7944.
Besides the increase in followers I was listed many more times than the previous months. 'Listed' means that other twitter users have added my account in their public lists so that they can easily follow my new tweets.
My twitter influence also increased dramatically during the days I was running my experiment.
How to get real followers on twitter without using any tools
Step 1 – Narrow your niche
I mentioned above that twitter is not only a numbers game but is more closer to an interests game. This means that in order to get followers that will actually care about your tweets, you need to narrow down your niche and go after people with a very specific profile.
Before starting this experiment I decided that I would go after people that tweet about #digitalmarketing. Our industry is made up of a number of related niches like SEO, social media, content marketing, blogging etc but my profile and tweets are more relevant to Digital Marketing so these people are closer to my target audience.
You may think that the niches I mentioned above are all part of digital marketing and this is true but I wanted to focus on the people that tweet specifically about digital marketing (using the particular hashtag), since I noticed that these people have interests that match mine and tweet about things I would normally tweet.
By segmenting your audience at this level, you get better results and it's the first step in becoming an authority twitter user for that niche.
Step 2 – Optimize your twitter profile
After you narrow down your niche, the next step is to make sure that your twitter profile is optimized.
This means having a profile picture (a real picture of you and not an icon or animal), a good description about what you do including the hashtags you have selected to target.
If you take a look at my profile you will see that I have a small description of what I do and the hashtags I am using so that everyone that will check my profile will understand what to expect from me in terms of tweets.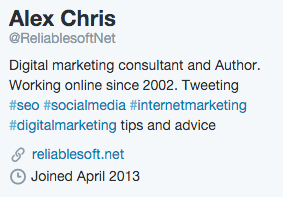 Step 3 – Find potential users to follow in your niche
Next, is to actually find which users to follow. The best and easiest way to do that is to open twitter and search for your hastag(s). Scan though the results and start following people, retweeting the ones that you find relevant for your audience or even mark some as favourite so as to get the attention of other people.
When you re-tweet or mark a tweet as favourite, the other person gets notified and some of them will check your profile and follow you.
When selecting the users to follow, make sure that they meet the guidelines below, because this will increase the chances of them following you back.
They have a profile picture and meaningful profile description.
They follow a number of people. If the number of people they follow is much less than the number of people following them this means that they don't follow back so even if you follow them most probably they won't follow you back.
They have a good number of followers.
They tweet frequently using the hashtag you are interested in. You don't want to follow someone because they used the particular hashtag once, but you want users that consistently tweet about it.
Being selective of who to follow increases the number of people that will follow you back. If you select anyone without doing the above checks soon enough you will end up with a big number of following and not enough followers.
Step 4 – Anything you tweet should be optimized for your niche
Another technique that I used that proved to be very effective was to tweet a number of times per day using the hashtag #digitalmarketing.
If you are not sure what are hashtags and how to use them read my previous article that explains everything in detail.
As you will read below, I also use buffer to share some of my tweets but for this case study I had twitter open while I was working and every couple of hours I published a new tweet. The tweets were not all from my websites but I tweeted from a number of sources and also retweeted from the stream.
Every time I did this I noticed that immediately afterwards I got new followers, retweets and listed in different lists. It is important to understand that your potential twitter users are in different timezones and by tweeting several times per day you can see which times work better for you and also reach a larger audience.
A good practice is to tweet in real-time when you are awake and use a scheduling tool to send out tweets while you are sleeping.
Besides having the hashtag in my tweets I also included images that make the tweets more visual and interesting.
Step 5 – Find and follow industry leaders
The chances that popular and 'famous' twitter users will follow you back are minimum but you still have to follow them for many reasons.
For starters, you want to know what they are tweeting about and find opportunities to retweet their posts or even send them a message. They are more likely to reply to you on twitter than any other medium.
Second, a lot of people (as you will see below), scan their profiles and find people to follow and you want to be one of them.
Third, most of the times their tweets go viral and get attention so by retweeting these popular tweets, you also increase your chances of getting your tweets retweeted and reach more people.
Fourth, I will cover this in more details in another post but having a list of twitter users that are industry leaders can prove very useful when you want to advertise on twitter by targeting specifically those people.
Step 6 – Don't forget to follow back
While your goal is to get as many followers as you can, don't forget to follow back. When someone follows you check their profile and if they are a good fit (see conditions above), follow them back.
What I do is check my twitter notifications every couple of hours and follow back interesting people. In case I missed someone, I find them later using one of the tools I am using (keep reading and you will see below the details).
Following a number of people is not bad provided that you have more followers than following. This makes your account more 'authoritative' and in the long term this can prove to be very important.
Have also in mind that many people use tools to manage their followers so if you don't follow them back they will unfollow you in a few days.
Step 7 – Reply to mentions or retweets
Twitter (and social media in general) is about connecting with people so it is important to reply to mentions or thank someone that retweeted your message. I don't use any tools for this because the idea is not to spam users with 'thank you messages' but to really connect with them in person. See an example below:
How to get even more real followers on twitter
The above technique will get a good number of new targeted followers per month. I managed to get 400 real followers in just 30 days but if you follow the above steps with discipline and consistency you can get better results.
If you want to speed up the process and gain more real followers, you can make use of a couple of tools. The first one is buffer which is used for scheduling tweets and the other one is manageflitter.
Why Buffer? There are many reasons to use buffer to schedule your tweets. For starters it's easy to use, it has a number of scheduling options and it integrates well with chrome, twitter and many other tools and you can also use it for free.
You can read this detailed post in the buffer blog on how to use buffer with twitter.
Unfortunately though good content alone will not get you a lot of new followers.
Content quality does matter but if you want to boost your twitter followers (like I did in the first few months of having my account), you need to use a tool.
Why ManageFlitter? I have been using manageflitter for a few years now and I find it to be one of the most effective twitter tools around. It has a lot of functions but I mostly use 3 of them.
The first one is called Power Mode. What you can do with power mode is apply a number of filters to any set of twitter followers so that you can find the ones you can follow. The tool has many options that I did not find in any other tool and this makes it very effective.
As you can see in the screenshot below, I created a filter with the following conditions in power mode:
Find twitter users that I am not following and they are not following me back.
Their tweets include the hashtag #digitalmarketing
They are active on twitter
Have a profile image
Have an English account
They account is not protected
I have not yet send them a follow request
I have never followed (this is very important because you don't want to repeatedly follow users that did not followed you back)
They have at least 3000 followers
They follow at least 2000 people
They tweet at least one per day
There are many other conditions you can apply but the above ensures that the set of people you will get are more likely to follow you back when you follow them. Not only because they tweet about the particular topic I am interested (digital marketing) but because they are active and follow back.
Besides the above filter I created a number of other filters targeting different interests including competitors and industry leaders.
A second function I use is the "Unfollow feature". What the unfollow feature does is show you a list of all the people you follow but they don't follow you back. This is useful when you want to do a clean up of your twitter account to keep a balance between the number of people you follow and the number of people that follow you.
It's always better to have more followers than following.
What is nice about this feature is that you can also apply filters so that you don't unfollow people that you followed recently or people that are in your 'never unfollow list' (such as industry leaders that you follow but most probably they don't follow you back).
Last but not least, another feature of manageflitter that is very useful is the "Follow feature". With this set of tools, you can find people to follow. They are broken down into a number of categories so as to make your selection easier and faster.
For example you can get a list of the accounts that are popular and have high influence but you don't follow them back or people that have engaged with your tweets.
There are more options but overall the functionality of manageflitter makes it very easy to manage your twitter account by spending less than 10 minutes per day.
Above all, it is proven to work and this is how I managed to go from 0 to 6000 followers in just a few months. After I did the above experiment I started to use manageflitter again by following 30-40 people per day and doing weekly cleanups (of those that don't follow me back).
Check my twitter account in a number of weeks to see the increase in my followers.
Lessons Learned
The bottom line is that twitter is a social network you cannot ignore. Getting new followers is not difficult but it needs consistent work.
While it is possible to increase your followers without using any tools, by making use of a couple of tools you can really boost your twitter presence fast and take advantage of the many benefits twitter can offer you.
Don't forget that it is not only a numbers game so instead of just getting new followers that won't help you in anything, try to segment your market and go after people that can help you later by retweeting your messages and giving more exposure to whatever you want to promote on twitter.